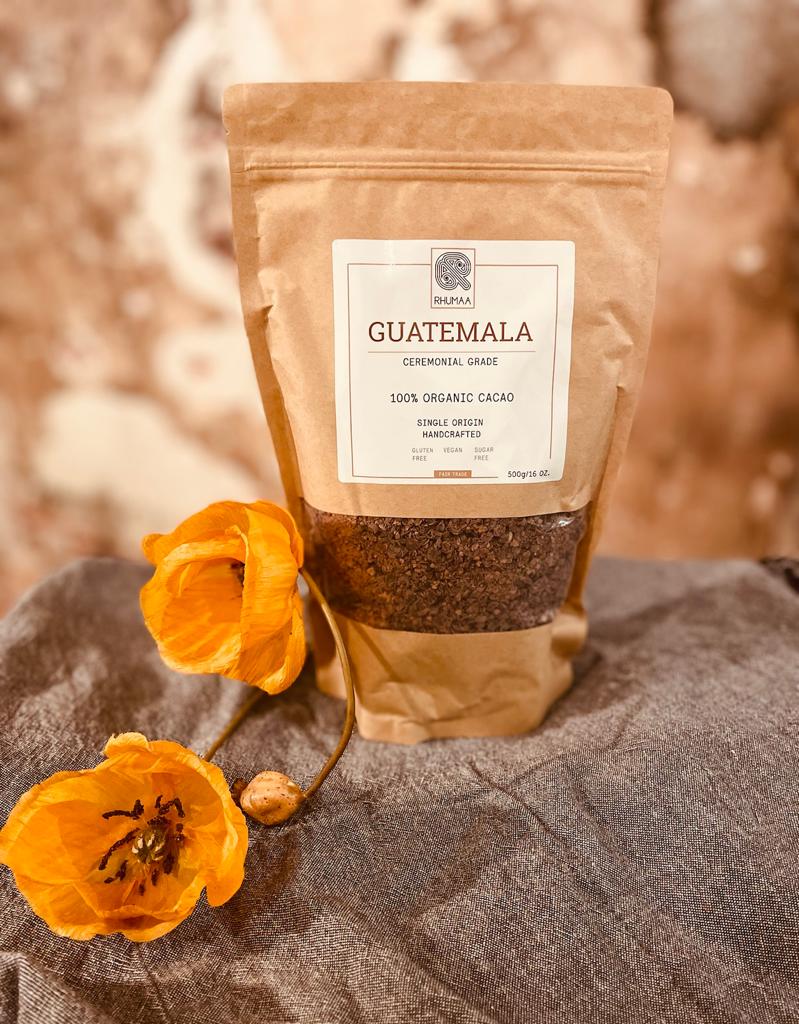 € 31.00
Cacao Flakes 100% - Guatemala - 500g
The cacao is sourced directly from small-scale family farms and collectives in Guatemala, with the farmers receiving better than fair wages for their work. The cacao is prepared in the traditional way, selecting beans by hand and lightly roasting them over a wood fire.
Nutrition Facts
Serving Size: 1 Tbsp (15-20g)
Servings per 150g: 7.5 -10

Amounts Per Serving 15g
Calories 87
Calories from Fat 54   
%Daily Value*
Total Fat 6g 9%
Saturated Fat 3g 18%
Trans Fat 0g
Cholesterol 0mg 0%
Sodium 0mg 0%
Potassium 207mg 6%
Total Carbohydrate 2g 3%
Dietary Fibre 6g 21%
Sugars 0g
Protein 2.3g 5%
Calcium 6%
Calcium 3%
Magnesium 9%
Iron 8%
Copper 21%
Zinc 6%
Manganese 9%

Raw cacao is a natural superfood that is high in nutrients such as iron, magnesium and zinc. Cacao is considered to have the highest source of antioxidants of all foods.

100% CACAO
Keep in a cool ( 15 - 20°C ) and dry place in an airtight container

Flavours to add:
- chilli
- cinnamon
- maca
- cardamom
- vanilla
- turmeric
- ginger
- honey
- stevia
- coconut oil
- blossom nectar
RHUMAA CACAO
Focusing on health, wellness and lifestyle - Rhumaa Cacao helps you discover the benefits of raw cacao.
Where is the cacao from?
Cahabón is an ultra-premium cocoa that is 100% grown, fermented and dried in the Cahabón region by the ADIOESMAC cooperative.
The Association of Integrated Development "OX EEK" Santa Maria Cahabón (ADIOESMAC), founded in 2004, grows cocoa, cardamom, cinnamon and chilli peppers and sells them. On a mountain top with an incredibly beautiful view of the vast, jungle-like hills of the Cahabón region, the association processes the cocoa in wooden fermentation boxes and a combination of greenhouse dryers, raised bamboo decks and drying terraces.
Support through fair trade
The group made its first experiences with the export of fine cacao in the early 2000s. They were the first cooperative in the region to export centrally fermented cacao to US and European bean-to-bar manufacturers.
The farmers' receive higher income from direct trade, based on the quantity and quality of cacao delivered, and is paid out to each farmer personally, without going through a cooperative manager.