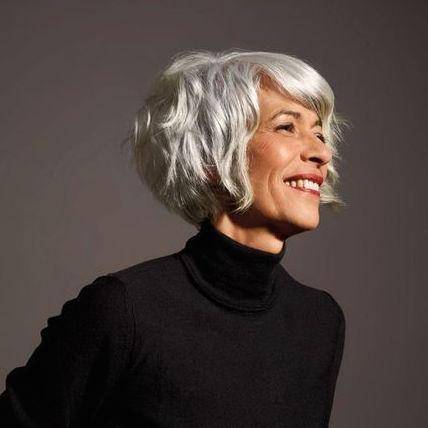 Her stylish look and grey locks are right on trend. She wears sophisticated and classy little black dresses and she doesn't feel a year older than 30. She decided that age is a beautiful number and not one that is destined to define her.
Welcome to 2018! Another year to celebrate you, your individuality and above all, your youthful self, no matter how old you are turning this year!
The numbers game is inescapable and reminds us year after year, that gravity is real and grey isn't a fleeting trend. But there's light in our tunnel. We do bench presses like our younger selves and run further than ever. We eat healthier. We live better. We experience more. We wear our clothes with confidence and look younger and younger the older we get. Of course, that may just all be in our mind, but then again, it's our mindset that matters most.
In the words of fashion icon Iris Apfel, "I think a woman has her own style and knows who she is. She doesn't have to dress for being 60 or 20 or 90".
The 'ageless' approach to living is trending everywhere and gives brands more fluidity in their design, rather than designing for a particular age group. This is great because now women of any age no longer need to live with stereotyped stigmas of their past generation. They can feel confident and stylish wearing clothes that suit their lifestyle, personality and mindset by remaining true to themselves and youthful at the same time.
"Self-image plays an important role in a consumer's purchase, product and brand choice." (Sirgy et al., 2006). This means self confidence, self awareness, self purpose and self drive help consumers decide if products will work for them. What we do on weekends, who we spend time with and how creative we are all play a role in the clothes we choose to wear, young or old.
Today we are 'always on', living faster and better informed lives. We are better connected even though our lifestyles may be more demanding and we are more self-aware, valuing authenticity and self-worth so much more. There's perhaps no better time to celebrate our identity and perhaps explore the person we are this year, no matter our age!
So lets get honest about a few things. Life is too short to worry about age and age is too long to worry about what others think. Age is just a beautiful number after all.
And with this, we wish you a sophisticated, youthful 2018, no matter your age. We celebrate women, artistic expression and life in full colour everywhere!
HERE'S TO A BEAUTIFUL YEAR AHEAD!
Photograph credits: Masters Models
Photograph credits stories page: Mark Gellineau